The

Oral Health Resource Center

of the Northeast Caribbean AIDS Education and Training Center (AETC) offers a wide array of training programs. Training services include didactic presentations, interactive workshops, case discussions, preceptorships, consultations, technical advisement and assistance with practice transformation. Most trainings include free continuing dental and dental hygiene credits.
What?
---
The program's goals are:
Training health practitioners to competently manage all aspects of oral health care

Training health care providers to work inter-professionally to advance the best health outcomes for their HIV patients
---
Who?
---
We provide trainings to dentists, dental hygienists, dental assistants and other clinical health providers in all practice settings including private practices, community health centers, hospital and long-term care.
---
Where?
---
We are able to provide in-person training at your organization, at one of our training sites, or on-line. Learn more by exploring our resources:
Animated Educational Video for People Living with HIV on the Importance of Oral Health

.

An educational video on the importance of oral health for people living with HIV. The video outlines common oral health issues as well as prevention measures.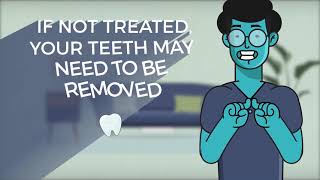 For more information, please contact:
---
How?
---
Coordinators from eight of our regional partner sites participated in a 13-week practice facilitation training program. The trained coaches are the primary resource for the region's PT program. Since practice transformation is highly impacted by state, local and regional policies, the coaches' knowledge of their communities greatly enhances their ability to facilitate practice change. Each coach has developed a longitudinal relationship with their practice transformation site that includes in-depth need assessments and meetings with interdisciplinary teams of health care providers and clinic leadership on a regular basis. The clinic leadership, with the assistance of the PT coach, identified practice transformation goals for their site. The coach is responsible for coordinating TA and training requests to meet the identified goals, maintaining ongoing communication, and facilitating data collection to evaluate outcomes along the Continuum. For more information, please contact:
---
---